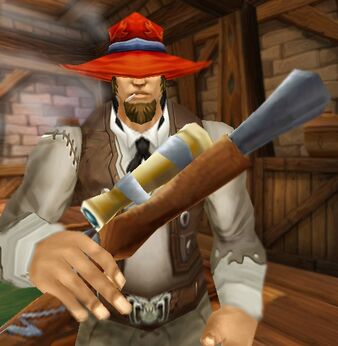 Deadwood Munitions Co
Edit
Deadwood Munitions Co is a company of weapon manufacturers currently operating in the city of Stormwind. Known by some people as the ex-supplier of guns to the Stonemasons Union and Defias , to many others it is a simply a munitions store that sells high-quality goods to anybody capable of affording them.
Name: Deadwood Munitions Co, also known as Goldbrig's Guns or more simply 'The Company.'
Theme: Criminal
Requirements: Basic grasp on lore, and generally good roleplaying skills are a must for acceptance into the guild. If you are new to roleplaying then we are willing to teach, but you must also be willing to listen to criticism and learn. Must not be a Death Knight.
Recruitment Status:Open
Background
Edit
Behind closed doors, the company's main line of work is smuggling - everything from weapons, to drugs, and even bodies if the pay is good enough. Led by Ex-Stonemason Ronnie Goldbrig, the company has a dedicated team of labourers, bodyguards, smugglers and more. As well as smuggling, some members dabble in shady activities such as hustling and drug selling - All while posing as legitimate shopkeepers during the daylight hours.
How to Join
Edit
If you're interested in the guild, feel free to post on our forum advertisement on the Steamwheedle forums, or ask any guild member in-game. Ronnié and Duvall are the two main recruiters. You will be required to pass a small OOC interview before we invite you to the guild.
Current Status
Edit
Alive and recruiting. Working closely with the Nightskull Gang.
Rovelle - Overseer of the bodyguards.
Greg Homme - Deputy-Boss & Company Advisor.
Narmididdle Flashfingers - Corporate Espionage Agent, Smuggler. Known as Grim
Community content is available under
CC-BY-SA
unless otherwise noted.