Prionus Ralion Quae'duce
Physical Traits
Edit
A brief description of physical appearance and objects of note.
Race and Class
Edit
Blood Elf Hunter
None.
Occupation
Edit
Farstrider/Ranger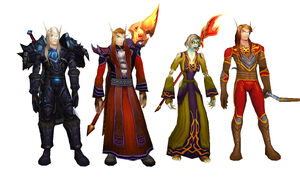 Rodoles Quae'duce - Father (Deceased)
Elania Quae'duce - Mother (Deceased)
Quelonus Quae'duce - Eldest Brother (Deceased)
Veldonus Quae'duce - Elder Brother
Magister Faronus Quae'duce - Elder Brother
Aldanea Quae'duce - Elder Sister
Background
Edit
Summary of your personal history
Family Background
Edit
See House Quae'duce
Criminal Record
Edit
Include or omit acording to the case.
Personal Notes
Edit
Current Status
Edit

Community content is available under
CC-BY-SA
unless otherwise noted.