World of Warcraft Music Video

Edit
Sevestra Cora Nightian
Or Her New Family name Hawke
AKA: Sev, Sevvy, Hawke
Physical Traits
Edit
Age: 27
Height: 6,1"
Weight: 11st
Eye : Grey
Hair: Red
Scars: Long down one side of her back.
Across Left Thigh
Behind Right Ear
Across Stomach
Across left and center of chest.
Across Right side.
Race and Class
Edit
Human Rogue
Angelic Force But is Currently looking For another Guild before Argent Battalion is restablished.
Occupation
Edit
Currently Unemployed, A Early Retired Argent Crusader.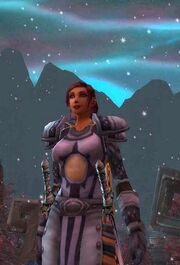 Recently Discovered Sister Elvirea
Mother- Cassandra Hawke : Assumed Deceased
Father- Hadrian Hawke : Assumed Deceased
Background
Edit
Sevestra was born to unknown parents, they were unknown because a few days after Sevestra's birth they died or disappered no one really knows. The Infant Sevestra was then taken in by a wise old rogue that trained her in his ways untill shortly passing away himself. Now alone once more Sevestra travelled Azeroth trying to survive, she trained her deadly skills and started to develop a thirst for blood, thus she became an hired assassin.
For many years Sevestra moved from guild to guild, killing people and spying. Earning a living through death and enjoying it.
One day after loosing her temper, Sevestra threatened to kill the Commander of the Temple Knights an order sworn to protect and serve the light and the citizen of Stormwind. After realising what she had done, she seeked forgivness from Dalax the commander of the order and joined it's ranks.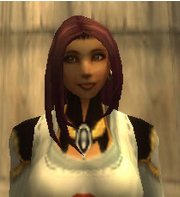 Since then she serves the order and wishes to rise greatly in the ranks and dreams to become a powerful leader and be famous throughout Stormwind.
Sevestra then left the Temple Knights and then Created the Unforgiven Angels there she leads with Shaunryu and being on both sides of the law now tries to forfill her dream.
Leaving the rule of the Unforgiven Angels to Shaunryu, Sevestra joined the Argent Crusade, Which ended up being where Haleth Freethinker was. Haleth was a good friend of Sevestra's from the Temple Knights and she had grown pretty close to him.
Within a few days of joining the Argent Crusade, While on a mission in northend she was promoted to private because of her first aid skills and calmness throughout the mission.
A fatefull day has seen the return of Desmond, The man who raised her and who died of old age was once again alive as a death knight. After attacking Sevestra for betraying his ideals he went in search of her in Stormwind to then to be killed by Haleth Freethinker.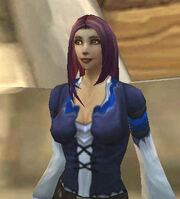 After the military tour with the Argent Battalion through Northend, Sevestra returned to Stormwind on short reprieve to discover that she has a brother, Emsti who was born before her and explained about her parents. Sevestra was also promoted to sergeant,
Sevestra then Joined the Stormwind guard and worked hard to gain rank to seargent but getting bored quite quickly, Sevestra had begun to be haunted by her past again and so was inclined to hand out secret information on the Guard to the criminal organistions in Stormwind, She was eventually caught and was sentence to thirty days in prison and was immeditaly remove from the service of the guards.
Thirty days had passed and Sevestra had doubted her own reason to live having no career and doubting any sign of having a lover. She struggled to decide whether she take her life or to live, fortunately Elisisca and Haleth had given her some comfort with thier words but as release day is coming upon her she still had many doubts.
After being freed from prison and after a few events with Umbert she rejoined the 7th battalion and served under Commander Umbert Once again.
After many months of serving The 7th Battalion, the great Commander Umbert Ironshield Dissappeared and the Battalion was dissolved. Sevestra then was recruited into the Service of Shinodan and his Peacekeepers until Haleth Freethinker became close and Sevestra Left The Peacekeepers and searched for something Else.
After visiting the Guards and digging through the old Stockade records, Sevestra finally found her Mother and her Father's Name. Cassandra Hawke and Hadrian Hawke. Her mother was released from the Stockade three years after Sevestra was born. Sevestra now wondering if they are still alive.
Criminal Record
Edit
Quilty of Multiple Assassinations/Murders of citizens from all over the Eastern Kingdoms, Was never caught and never punished for these crimes. Only Arrested for small minor crimes, Longest sentence was 30 days in prison for betraying the guard by selling information to outside criminal members. In other words being a corrupted guard.
Personal Notes
Edit
Carries a Journal and Always Wears a Half Locket with faded picture inside.
Current Status
Edit
Currently wandering around Stormwind feeling sorry for herself and looking for love.
Community content is available under
CC-BY-SA
unless otherwise noted.