Veldonus Tartius Quae'duce
Physical Traits
Edit
((To come))
Race and Class
Edit
Quel'dorei Death Knight
Occupation
Edit
Hunting the Scourge.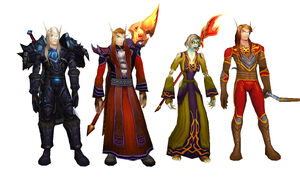 Rodoles Quae'duce - Father (Deceased)
Elania Quae'duce - Mother (Deceased)
Quelonus Quae'duce - Eldest Brother (Deceased)
Faronus Quae'duce - Younger Brother
Aldanea Quae'duce - Younger Sister
Prionus Quae'duce - Youngest Brother
Background
Edit
((To come))
Family Background
Edit
See House Quae'duce.
Criminal Record
Edit
The murder of his elder brother.
Stealing from his family's funds.
Suspected poisoning and murder of his father.
Personal Notes
Edit
((To come))
Current Status
Edit
Finaly free from the Scourge's influence.

Community content is available under
CC-BY-SA
unless otherwise noted.